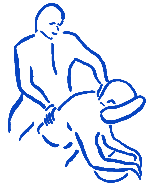 Job Stress and On-site Massage Therapy

Job stress costs the U.S. economy more than $200 billion annually through diminished productivity, compensation claims, absenteeism, health insurance and direct medical expenses. Today, many businesses (especially corporate offices), employ massage therapists on-site.

Many studies indicate that on-site office massage therapy programs improve and increase productivity levels of workers, as well as decrease sick days, and keeps workers happy by improving mood.


Here are some facts about Job Stress from
The American Institute of Stress: http://www.stress.org/job.htm
- 40% of workers reported their job was very or extremely stressful;

- Job stress is more strongly associated with health complaints than financial or family problems;

- 25% have felt like screaming or shouting because of job stress, 10% are concerned about an individual at work they fear could become violent;

- 62% routinely find that they end the day with work-related neck pain, 44% reported stressed-out eyes, 38% complained of hurting hands and 34% reported difficulty in sleeping because they were too stressed-out;

- According to a survey of 800,000 workers in over 300 companies, the number of employees calling in sick because of stress tripled from 1996 to 2000;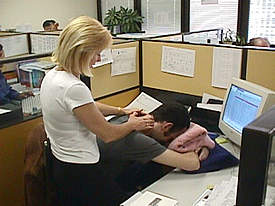 - Stress keeps about one million people a day from going to work
- Unanticipated absenteeism is estimated to cost American companies… $3.5 million annually;

- Job stress is also very costly with the price tag for U.S. industry estimated at over $300 billion annually…
On-Site Massage Quotes from AMTA
http://www.amtamassage.org/about/demand01.html

"An increasing number of corporations, small businesses and municipalities have found on-site massage to be a low-cost benefit with high payoff".

"The Investor Relations Group, Inc., of New York, offers each of its 15 full-time and part- time employees a weekly 15-minute massage, because it makes a difference in retention and employee morale".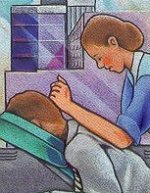 "Among organization benefits managers, 8% report that massage is an employee benefit".

"At Boeing and Reebok, headaches, back strain and fatigue fell since the companies started bringing in massage therapists".

"By including 15 minutes of free massage therapy once each week, the Calvert Group, an investment firm in Bethesda, MD, reduced its turnover rate to 5% in an industry where the norm is 20%".

"Research shows that 60% to 90% of doctor visits are stress related".
Perkins, A. (1994). Saving money by reducing stress. Harvard Business Review 72(6):12.

"Northwest National Life reported in 1993 that one million absences each day in the workplace are stress-related".

Farrell, F. (1994) The demoralized zone: Healing the downsizing survivors. Executive Directions. September/October: 37-43

"Forty percent of job turnover is due to stress."

Bureau of National Affairs


With statistics like these, it is clear why many companies are investing in on-site massage treatments for their employees.

"A growing number of USA firms are curbing employee stress by offering free or low-cost massage right at the office."
-USA Today
As you begin to sell your services to employers and companies, be sure to remind them of the following facts:
- Chair massage can improve the quality of the workplace resulting in increased productivity, commitment and drive.

- Businesses can have a happier and healthier work force; one which includes a peaceful environment where employees can feel energized, recharged, happy and appreciated through their workday.

- Employees will be more dedicated to the company as they will feel prized as a result of their employer's caring gift of massage.

- Employees that receive massage work as part of a corporate wellness program feel less
stressed, and are less likely to take unplanned time off from work.

- Massage provided in the workplace promotes overall well-being, and will reduce healthcare costs and sick days.

- Reducing anxiety and aggression by promoting relaxation will result in more energy and concentration, which yields better quality of work.

-The great effects of massage in the workplace contribute to the welfare & success of the entire company.

- Massage lowers tension and pain, and will yield happier, more relaxed workers.

- Less fatigue means clearer minds, more creativity and better problem solving in the workforce.

In Volume #6, on-site office massage therapy is covered in detail. You will be introduced to massage techniques using silk (which will allow your subjects to remain dressed, and you can forgo lotion- these are ideas that support quick, practical work-site treatments). You will learn how to perform upper and lower extremity techniques in the sitting position, as well as view demonstrations on chair massage using a regular chair (so that you don't have to carry a special chair with you).
We all know that many corporate employees work with computers all day long, and so with this volume you will also gain knowledge of how to perform acupressure for tension headaches in the sitting position, as well as neck exercises (which give energy boosts, increased memory and reduced tension). As if that weren't enough, Boris also demonstrates in this volume how to perform Full-Body Massage techniques using silk. Keep in mind that this silk method is an old Chinese technique which allows for deeper mobilization.
In Summary:
"The effectiveness of a 15-min. on-site massage while seated in a chair… showed…"
"Massage therapy reduces anxiety and enhances EEG pattern of alertness and math computations".
Field, T., Ironson, G., Scafidi, F., Nawrocki, T., Goncalves, A., Burman, I., Pickens, J., Fox, N., Schanberg, S.,
& Kuhn, C. (1996) International Journal of Neuroscience, 86, 197-205.

Visit our Featured Products (click on underlined portion to be redirected) section to read more about Volume 6.

To return back to the Featured Products page, please click on the back button